How to Start a Dropshipping Business in 2021
How to Start a Dropshipping Business in 2021
In this guide, we explain how to start a dropshipping business — how to source products, find suppliers, and more.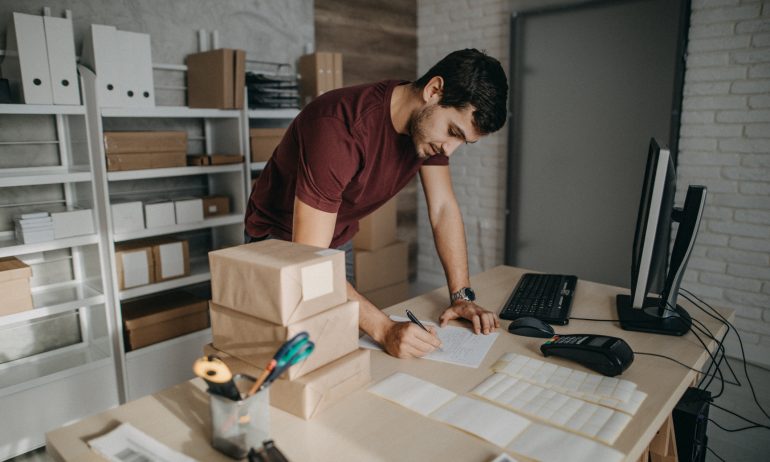 Many or all of the products featured here are from our partners who compensate us. This may influence which products we write about and where and how the product appears on a page. However, this does not influence our evaluations. Our opinions are our own. 
If you're trying to figure out how to start a dropshipping business, you're not alone—today, 33% of ecommerce stores use dropshipping as a fulfillment method, and with the ecommerce industry growing at a 17% clip annually, the popularity of dropshipping is only expected to increase.
So, if you're interested in this type of ecommerce business, you might be wondering where to start. Luckily, we're here to help.
In this guide, we're going to break down everything you need to know in order to start a dropshipping business—including what dropshipping is, how it works, how to source products, how to find suppliers, and more.
Before you can learn how to start a dropshipping business, you'll want to ensure that this is the right type of business model for you. In order to make this determination, it's important to understand exactly what dropshipping is and how it works.
In short, dropshipping is a form of ecommerce order fulfillment that allows you to sell products on your website that you are not directly responsible for warehousing or shipping. Instead, you purchase products wholesale from manufacturers or dropshipping suppliers, which oversee fulfillment for you.
How does dropshipping work?
With this basic definition in mind, let's break down how dropshipping works in a little more detail.
Overall, there are three parties involved in the dropshipping business model of ecommerce—you, the retailer, the customer, and the supplier or manufacturer.
The dropshipping process, therefore, can be summed up like this:
A customer buys a product on your ecommerce website.

You send the order information to your dropship supplier.

The supplier picks, packs, and ships the product directly to the customer.
So, why would you opt to figure out how to start a dropshipping business over a different type of business?
Overall, dropshipping has become a popular business model because it makes starting an ecommerce business simple. Shipping is taken care of from the get-go, and adding new products to your catalog is as simple as a few clicks. Your risk is minimized because you don't have to pay for inventory or warehousing, and if the products you sell ever lose popularity you can simply change them out.
In addition, the startup costs are minimal. You only buy what you know you can sell, and many dropshippers won't charge you a fee to work with them. Plus, dropshippers offer cheaper and more efficient shipping for their vendors than they would otherwise get. All you have to pay for is your ecommerce website and internet connection.
Finally, most dropshipping services will allow you to provide your own labels, so your customers don't even need to know you're a dropshipper.
At this point, dropshipping probably sounds too good to be true. Unfortunately, a lot of other people thought the same thing, which makes the dropshipping industry highly competitive. Because of all this competition, the profit margins are low as merchants compete to offer the lowest prices on popular items.
This can be a vicious cycle, as you need to do a lot of business to compensate for your low-profit margins, and yet you have a lot of competition for every sale. You are also at the mercy of the manufacturers or suppliers you work with, as they have control over fulfillment and returns, yet you have to deal with the customer.
It can also be harder to build a brand as a dropshipper, given that you are selling a variety of other businesses' products.
How to start a dropshipping business in 5 steps
Ultimately, it's up to you to determine whether or not dropshipping is the right type of business for you to start.
This being said, however, if you do decide to invest in learning how to start a dropshipping business, you can make the process easier by breaking it down into smaller, more manageable steps, as we've done below:
Step 1: Figure out the logistics.
Overall, the first step to starting a dropshipping business is actually getting through the paperwork and other necessary steps to start a business. With this step, learning how to start a dropshipping business is generally equitable to starting any type of business.
This being said, when you're setting up your business, you'll want to:
Select and register your business name and ACRA (if applicable).

Decide on a business structure that best suits your needs (sole proprietorship, Company, etc).

 
Step 2: Identify a market and choose a niche.
Once all of the standard tasks are complete, the next step to learning how to start a dropshipping business will be narrowing down the specifics of your dropshipping business idea.
After all, in dropshipping, you and your competitors all have access to the same products and work with suppliers that offer similar levels of service. Therefore, the great differentiator between your business and your competition will be your marketing efforts. To market successfully, you need to identify a target demographic and sell a product that speaks to them in some way.
Along these lines, if you're looking for the right dropshipping niche for your business, you can follow the tips below.
How to find a niche in dropshipping
Think about what interests you: It's easier to sell what you know. Consider your own interests when looking for a product to sell. Chances are if you like it, other people are into it too.
Identify a specific market: When you first start, you want to focus on a smaller subset of people because you can tailor your business to meet their specific needs. An example of a specific market would be people who practice tae kwon do, or pescatarians. Ideally, you'll find a market and a product that already interests you.
Keyword research: To help you identify a niche, you should perform keyword research via Google Adwords and Trends to see if there is any search volume around the products you wish to sell. The higher the search volume, the higher the demand for that product.
See what's selling online: Another way to find products in demand is by checking "best selling" lists on major ecommerce marketplaces like Amazon, Shopee, Lazada and eBay. You can also perform a simple Google search or utilize keyword tools to see how many people are searching for the product or niche you're considering.
Social media engagement: Check to see what people in your niche are engaging with on major social media platforms, like Reddit, Facebook, and YouTube.
Competition research: Once you think you've found a niche market, research the competition in that space. You'll want to consult some of the same platforms—Google, Amazon, eBay, social media, among other channels—to see how competitors in the space are selling your product. Ideally, you'll be able to find a niche that has some competition—which indicates that there is buyer demand and profits to be made—but not too competitive, in which you won't be able to stand out amongst the other sellers offering that product.
Evaluate profitability: Finally, once you have identified a market and a product, you're going to want to evaluate the profitability of your concept. With dropshipping margins being so low, you want to ensure you can actually make money in your niche. 
Overall, when it comes to learning how to start a dropshipping business, finding a niche can be one of the most time-consuming steps. This being said, however, it's important to take the time necessary to identify the right niche to put your business in the best place for success.
Once you settle on a niche you want to target with a specific product, it is time to find a supplier that sells that product. To this end, if you're wondering where to source products for dropshipping, the process shouldn't be nearly as difficult as identifying a niche—as there are a variety of dropship suppliers out there that offer millions of products.
This being said, your dropship supplier is a key partner in your business. In order to find the right supplier, we recommend prioritizing the following criteria:
Experience: You want to make sure your supplier has a proven track record in the dropshipping business and also provides good customer service.
Fees: With margins being so low, you want a dropshipper that won't hit you with unreasonable fees. Again, SalesHoo says you shouldn't pay more than $5 per item for stocking, packaging, and shipping. Some dropshippers will also charge you a small monthly fee for working with them.
Fast shipping: With dropshipping, the expectation is that the product will arrive within one to two weeks (most dropshippers are located in China). Any longer and you will likely face backlash from your customers.
Step 4: Build your ecommerce website.
At this point, we've identified a market and we've aligned with a supplier. Now, the next step to learn how to start a dropshipping business is building the actual website where we will sell our products.
There are two ways to go about this. You can either create a store on a major ecommerce marketplace like Amazon or eBay, or build your website from scratch using an ecommerce platform provider like Shopify or WooCommerce. Let's explore each option:
The benefit of selling on well-established marketplaces like Amazon is that they are easy to set up and users find them to be trustworthy.
However, using an ecommerce marketplace seriously limits your independence as a merchant, as you will have limited control over the branding, design, and marketing of your store. In addition, these platforms will charge you a fee on every sale you make, and you must adhere to their terms of service.
If you're going to be a dropshipper, we recommend building your own ecommerce website. As we said earlier, your marketing is what will set you apart from your competitors, and ecommerce websites offer you a lot more functionality in that regard.
There are many good ecommerce platform providers out there. Choosing which platform to use for your business will partially depend on who your dropshipping supplier is, as some offer direct integrations. If you use Oberlo, for example, it makes a lot of sense to sell on Shopify.
In general, consider what kind of store you want when deciding on your platform. More product-focused stores will benefit from being on platforms like Shopify or BigCommerce, because they offer a lot of product functionality.
If you want your store to be more content-focused (which could be a boon to your marketing and SEO efforts), consider using WooCommerce, which integrates with the content management system WordPress.
Step 5: Optimize and market your site.
Once you've actually created and launched your dropshipping site, the last step will be to do everything you can to bring in customers.
Therefore, regardless of which platform you choose, you are going to need to market aggressively and optimize your site for search. This is typically done through a combination of email marketing, paid ads, and social media. Each ecommerce marketing approach has its own merits. We recommend settling on a few that work best for you.
Email marketing: Most ecommerce platforms have a plugin for an email marketing tool like MailChimp. Collect your customers' emails and reach out to them each week highlighting new products, sales, and content on your site.
Facebook and Google ads: You can post ads for your website that will appear for terms related to your business on Facebook and Google. Both give you the ability to tap into a huge audience and target your specific niche. You can also pay extra to ensure your ads reach your target market.
Social media: Posting content related to your business on Facebook, Instagram, Twitter, and other major social media platforms is a cost-effective way to organically market your business.
Search engine optimization (SEO): SEO should be the backbone of all your marketing efforts. It is a set of strategies that improve your website's ranking on search engines. Steps you can take to improve your ecommerce SEO include working with a website builder that prioritizes SEO (like WooCommerce), engaging in keyword research-based content marketing, and building up the number of backlinks to your website.
Now that we've reached the end of our guide, you should have a good sense of how to start a dropshipping business.
It's important to remember, therefore, although the competition can be tough, the best way to distinguish your business from competitors to create a highly focused concept, partner with the right supplier and ecommerce platform, and invest heavily in your marketing efforts.